Monday, 17 June 2019
... ...
More
Monday, 17 June 2019
... ...
More
Thursday, 30 May 2019
APML organized the third info session for prosecutors, judges and the police, in cooperation with Judicial Academy and OSCE Mission to Serbia. At the event on 24 May 2019, NRA findings were presented. The goal of NRA is to draw conclusio ... ...
More
Wednesday, 22 May 2019
On 20 May 2019 a round table with representatives of commercial courts, prosecutor's offices and AML supervisors was held in Belgrade. NRA findings and international institutions' comments on Serbia's compliace with relevant s ... ...
More
Monday, 20 May 2019
On 17 May 2019 an infosession was held with representatives of judiciary and the police, where in direct communication NRA findings were presented. The infosession was held within the Project on enhancing the quality and efficiency of sus ... ...
More
Thursday, 16 May 2019
The Government has isued a conclusion on the adoption of the Guidelines for establishing consolidated methodology for reporting on and tracking of ML/TF cases. The Chair of the AML/CFT Coordination Body established on 28 Octo ... ...
More
Tuesday, 7 May 2019
For the purpose of enhancing AML/CFT knowledge that new staff in the Games of Chance Administration have, Ministry of Finance –APML and Games of Chance Administration are organizing a training titled Money laundering and terrorism financing ris ... ...
More
Monday, 22 April 2019
Ministry of Finance - Administrationf for the Prevention of Money Laundering organized on 18 April 2019 a training for OCSs - How to recognize poptential abuse and protect agasint it, in cooperation with the Office for Cooperation with Civil Society. ... ...
More
Thursday, 18 April 2019
On 12 April 2019, with the help of Judicial Academy, an info-session was held on the findings of national ML/TF risk assessment for judges, prosecutors, their assistants and police. National risk coordinator informed the audience on the requirement ... ...
More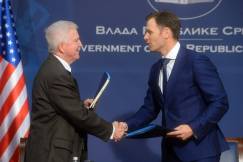 Wednesday, 10 April 2019
April 10, 2019, Belgrade, Serbia – Minister of Finance Siniša Mali and U.S. Ambassador to Serbia Kyle Scott signed an agreement today to improve international tax compliance. The agreement facilitates implementation of the Foreign ... ...
More